The 2017 Toyota Prius c Navigation System Will Get You Where You Need to Go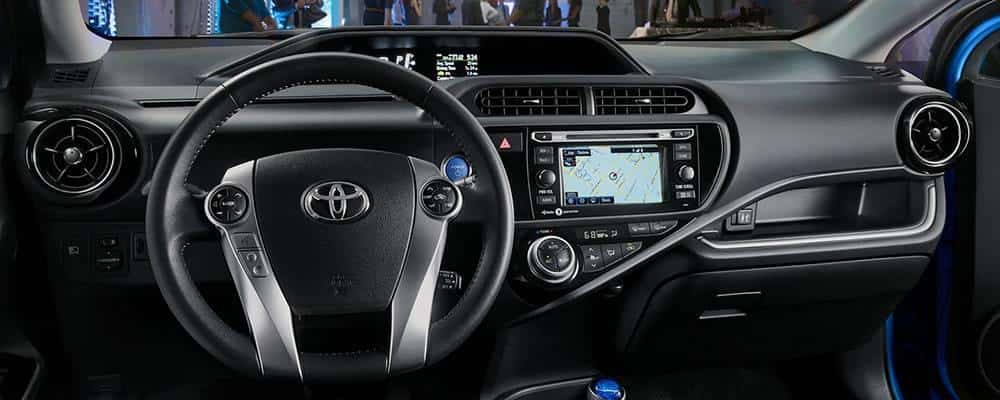 The 2017 Toyota Prius c navigation system provides the up-market features drivers want, in a low-cost compact that's easy to finance with us. See what the Prius c navigation system can offer you, then drop into Toyota Place near Seal Beach and watch it work.
Integrated Navigation
The integrated display uses the in-dash touchscreen that also provides access to the rearview camera system and audio controls when the navigation system is not in use. But that's just the beginning:
Voice Recognition: Keep your hands on the wheel of the 2017 Toyota Prius c and your eyes on the road with the Entune navigation system with voice control. Simply say the address you're looking for, and the system will help you find it.
Real Time Traffic: New smart technology monitors the traffic flow where you are and suggests the most efficient route, allowing you to skip the gridlock and enjoy the ride.
Destination Memory: Program your favorite destinations and allow the system to route you automatically so you can just concentrate on getting there.
When you choose the Entune navigation system from Toyota, you get convenience, connectivity, and security of knowing you'll never have to worry about traffic delays again.
Toyota Technology
As impressive as the navigation system is, it isn't the only advanced feature engineers have built into the Entune system. The 2017 Toyota Prius c is loaded with additional tech including:
Bluetooth Connectivity: Not only can you stream your favorite music to the onboard audio system, you can use it to answer your phone too, so you never miss another important call.
Weather Alerts: The real-time traffic system also provides weather alerts so you know when and where the elements might impact your commute.
JBL Audio: An optional 10-speaker performance audio can turn any source into a top-of-the-line listening experience. Ideal for those long commutes or traffic delays.
With Entune and navigation, there is no place your 2017 Toyota Prius c cannot take you.
See the 2017 Prius c Navigation System in Action at Toyota Place
Whether it's a quiet trip to Seal Beach or sojourn into L.A., the 2017 Prius c navigation system can get you there without the hassle. Contact Toyota Place at (714) 243-8973 or stop in and see us at 9670 Trask Ave in Garden Grove, CA to learn more.